If there ever was a time when I didn't draw, I can't recall it. It sure feels like I've always had a pencil in my hand, seeking to make sense of reality or shape it into something different altogether. Granted, the sheer creative potential of a blank page is both thrilling and terrifying, yet I've never once regretted the leap of faith.
I've doodled and sketched, painted, and illustrated, experimenting with materials while nurturing my inner child. What started as a hobby gradually seeped into my studies and work. They've now been interwoven for years, a web of colorful experiences I've reflected on.
Here are some of them, in case you decide to go for it yourself. Contrary to popular belief, everybody can draw!
Creative Pastime: Just Grab a Pencil!
This may sound rather cliché, but it's all about taking the first step. There's really no need for any special art supplies, a pencil and paper are the ultimate starter kit. Learning to combine basic shapes to create various drawings will definitely boost your confidence. Johanna Basford is one of my favorite illustrators – "How to Draw Inky Wonderlands" is a fun starting point, whether you decide to give her Youtube videos a try or the actual book with its step-by-step instructions. It's a bit like doing reverse engineering on your surroundings.
Visual Note-taking: #Commit Things to Memory
Actively engaging with any content makes it more memorable. Be it during a webinar for the latest Agile certification, a university lecture, or just your regular Sprint Review meeting, structuring information may prove daunting. Especially if the common language is different from your native one. A blend of listening comprehension skills and visual note-taking strategies can turn even the longest meeting into an interesting experience. Sketch-noting, mind-mapping, color-coding, even some freehand drawing/doodling can prove extremely helpful in the long run. Just beware of putting pressure on yourself: no one is going to grade those notes, the focus is on making things relevant for yourself.
Graphic Facilitation: Assemble a Toolkit
Back when I was a trainer, I favored elements of graphic facilitation for both linguistic and technical topics. Alongside various interactive methods, it was yet another way for me and my trainees to engage with the content. I could customize the learning experience in real-time, in a creative manner, based on our objectives. Graphic facilitation is not only suitable for new themes, it can also be employed for brainstorming, gathering feedback, structuring specs, discussing the outcome of a placement or level achievement test. You name it! Whatever your need, there's a way of rendering it visually. Some of the note-taking strategies come in handy here too: using a certain visual alphabet to sketch and structure information, mind-mapping, color-coding keywords, etc.
Bonus Panel: Let's Draw the Bugs out or Do Penguins have Knees?
Here's a little something to make you chuckle. Yes, drawing does seep into my work, yet sometimes it's the other way around. Even though I've logged off, some of the tasks find their way back into my pencil case. With testing assignments years ago, it was quite fun to imagine bugs in various shapes and sizes. As a software developer involved in the transition from mainframes to cloud-based solutions, I drew penguins cheering me on as I refactored PL/I code to work under Linux, as well as z/OS. Back-end development can be just as exciting as its front-end counterpart, am I right?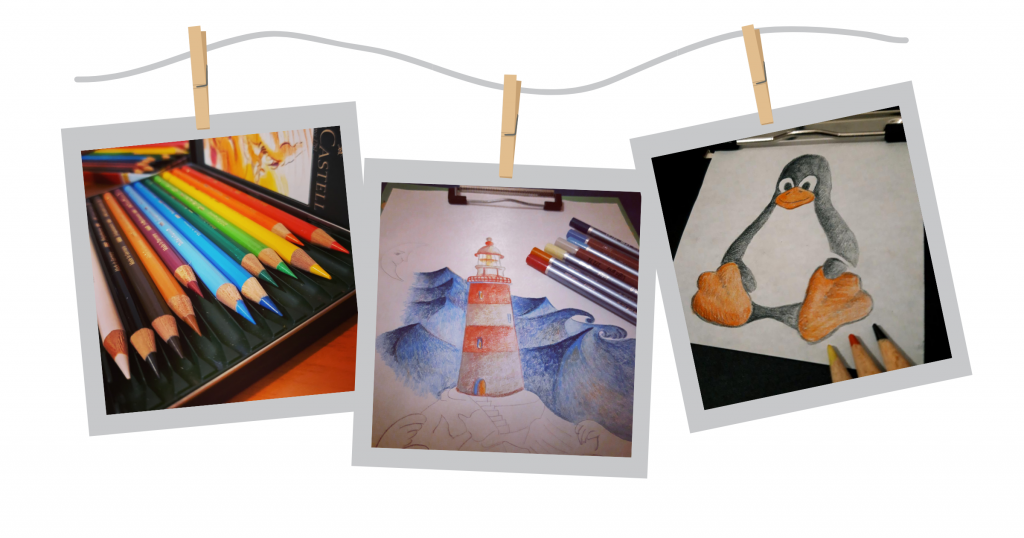 Bottom line: whether I draw in my spare time or in a work-related context, I enjoy every moment of it. It's also been an amazing outlet during the peak of the pandemic, allowing me to travel through the Realms of Imagination while in lockdown or on staycation. I encourage you to try it out if you haven't done so already – I'm sure you have your own stories to draw! And if you ever wish to nerd over oil-based Polychromos, debate the benefits of watercolor pencils or talk about blending techniques, just drop me a line on Teams.