Romania is a country that has risen from the ashes of communism and has become one of the most notable software outsourcing destinations in Europe and beyond. For many, this success was unexpected, but others saw the country's potential and started to invest in the IT sector in the early 2000s. With the country joining the EU in 2007, Romania became an even more attractive destination for software outsourcing companies and investors. What followed in the past decade is now known as Romania's outsourcing revolution.
In this article, we will explore Romania's outsourcing success story, highlighting the key factors that have contributed to its rise as a significant player in the global software outsourcing market. From its talented IT professionals to its supportive government policies, we will examine what makes Romania the perfect outsourcing destination.
Romania's Rise in Software Outsourcing
Romania's IT industry is one of the fastest-growing ones in Central and Eastern Europe. According to IBISWorld 2022 Report the market size, measured by revenue, of the Software Development in Romania industry is €3.2bn in 2023. But how this Eastern European country has managed to get here?
As with any success story, Romania's rise in the outsourcing sector has been a result of several factors aligning. Let's take a look at some of the most important ingredients that helped this country to become a software outsourcing paradise.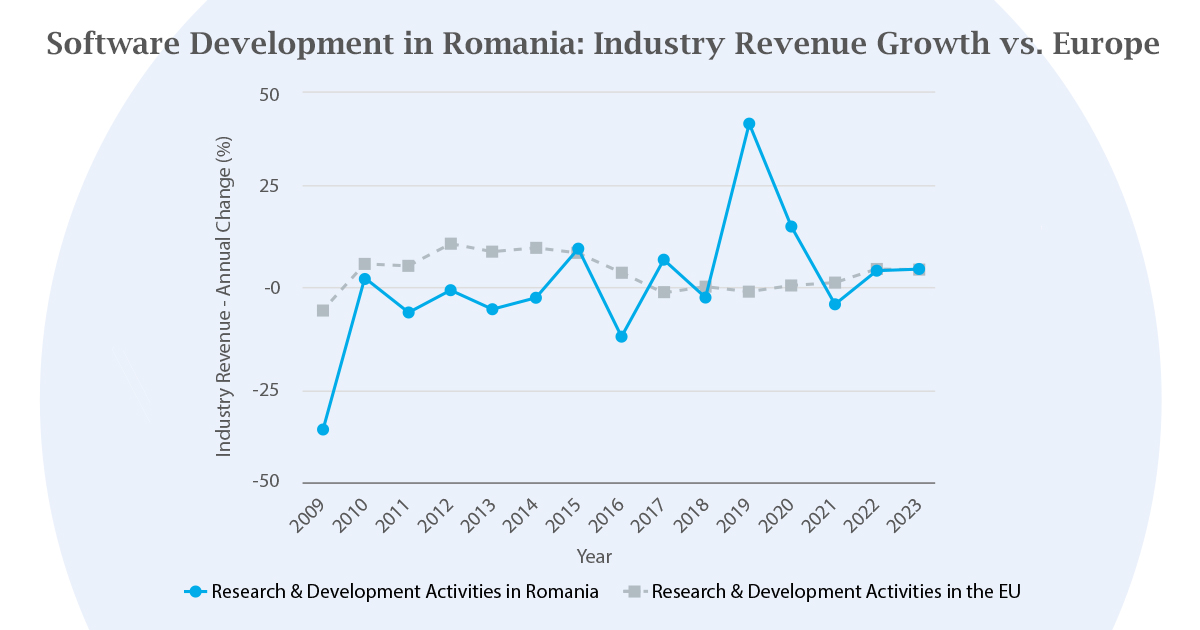 Tech education and talent pool
With a strong legacy of an educational system focused on math, engineering, and science, paired with a long history of excellence in Information Technology, that dates back to the Communist regime, Romania has a well-developed ICT base. For example, in 1957 the Romanian IT industry built its own computer called CIFA, followed by MECIPT in 1961 and DACICC in 1962.
Luckily, even after the fall of Communism in 1989, Romania maintained its educational system focused on exact sciences and the results speak for themselves. Just take a look at the International Mathematical Olympiad 2022 where Romania's mathematics team won first place in Europe and 5th place worldwide.
With 5 top technical universities and 59 domain-specific educational institutions, Romania is the leader in Europe, and sixth in the world, in terms of the number of certified IT specialists, with density rates per 1,000 inhabitants, greater than in the US or Russia.
Romania ranks as the 3rd top location for best developers worldwide according to a 2022 Pentalog Report based on SkillValue.
Romania has an EPI score higher than its European counterparts.
Another key aspect that makes the tech talent pool in Romania irresistible is the fact that developers are trained to be fluent in English and several other languages, like French, German, Italian, and others.
Perfect Location
Located at the crossroads between Western Europe and Eastern Europe — two markets where there are plenty of opportunities for growth in IT services and software development, Romania has a lot to offer when it comes to the quality of life and safety of its citizens. Furthermore, its location is a huge benefit in terms of easy access from any European country. Therefore, Romania it's an ideal nearshore and offshore software outsourcing location.
Modern, Westernized, Multicultural
Romania's culture, values, and lifestyle are very similar to the ones of Western Europe and the USA. In addition, almost any Romanian outsourcing company shares Western approaches to work. This is a result of sharing the same European heritage and cultural exchange. A large number of developers have studied or worked in other European countries, and a significant part of the Romanian IT industry has worked for Western countries. Therefore, collaboration with outsourcing teams that carry out their activities in Romania, should go smoothly.
According to Romanian Software and Services Industry Employers' Association (ANIS) in 2019 software and IT service exports accounted for 80% of a 5.9 billion euro total turnover) with 95% of the clients coming from Europe and the US.
Government Support for IT Industry
The Romanian government has been actively promoting the country's software outsourcing industry, providing incentives for foreign companies to set up operations in Romania and supporting the development of local startups. The current legislation provides certain benefits like 0% income tax for employees working in IT&C companies. The government has also invested in infrastructure to support the growth of the IT industry. For example, it has implemented initiatives to improve internet connectivity and has established technology parks and innovation centers to support the development of the industry. Paired with the investment in education and training programs to develop the skills of the local workforce, the government support for the IT sector has helped to position Romania as a key player in the IT industry.
Affordable Rates
Romania's relatively low labor costs compared to other European countries, combined with its highly skilled workforce, make it an attractive destination for software outsourcing companies looking to cut costs without compromising on quality.
Fast Internet Speed
Romania's internet infrastructure is highly developed and competitive, boasting the top connection speed in the region, while also coming in 2nd place in Europe, and 10th place worldwide in fixed broadband speed (Source: Speedtest Global Index).
Final thoughts
Romania's outsourcing success story has many chapters left to write but the future doesn't look bad at all. Even with the current global crisis in the technology industry, manifested also by massive layoffs among giant companies, Romania's IT industry will not be impacted that much. According to an ANIS Sentiment Survey 2023, 65% of responding companies expect turnover growth in 2023 while only 4.8% expect a decrease in revenue, and 30.2% expect turnover to be similar to 2022. The same survey shows that 68.3% of companies expect to end 2023 with a larger team than in 2022, while 22.2% still do not know to what extent they will lay off or hire this year.
Romania has all the cards needed to win the game in the long run so keep an eye on this powerful outsourcing destination for your next software development project.