Ready to outsource? We don't blame you—it's a great way to keep costs low and take advantage of the latest trends in software development. In the past several years, IT outsourcing has become one of the most in-demand areas, offering a wide range of services and options. With a worldwide contribution of US$361B in 2021 and US$395B in 2022, IT outsourcing is forecasted to rise and reach US$587B by 2027 (Source: Statistica). Therefore, is no wonder why software development and IT outsourcing services are becoming the savior in the current digital field.
In this article, we will provide an overview of what software outsourcing services entail, the potential benefits associated with it, and what software outsourcing tendencies will dominate this year.
What Is Software Development Outsourcing?
Software outsourcing is an integral part of the modern tech industry. Put simply, it's the process of delegating the development, maintenance, and support of software applications to a third-party vendor, with expertise in supplying these services. Worldwide, large and mid-sized companies across various industries are on a quest to digitize and optimize their work processes, ultimately paving the way for digital transformation. Companies need fast and competitive scaling, which can be gained with the help of this business approach.
It's no secret that technology keeps evolving at lightning speed. What is today's top technology can be outdated in the near future. This makes it a must for companies to keep up with the tech trends while adopting a cost-effective business model. Luckily, software outsourcing offers a range of benefits, including cost savings, access to a wider talent pool, and accelerated timelines.
Types of Software Outsourcing Services
Today, IT outsourcing is more diverse than ever. You have three primary options when it comes to outsourcing: Offshore, Nearshore, and Onshore. Let's take a look at each.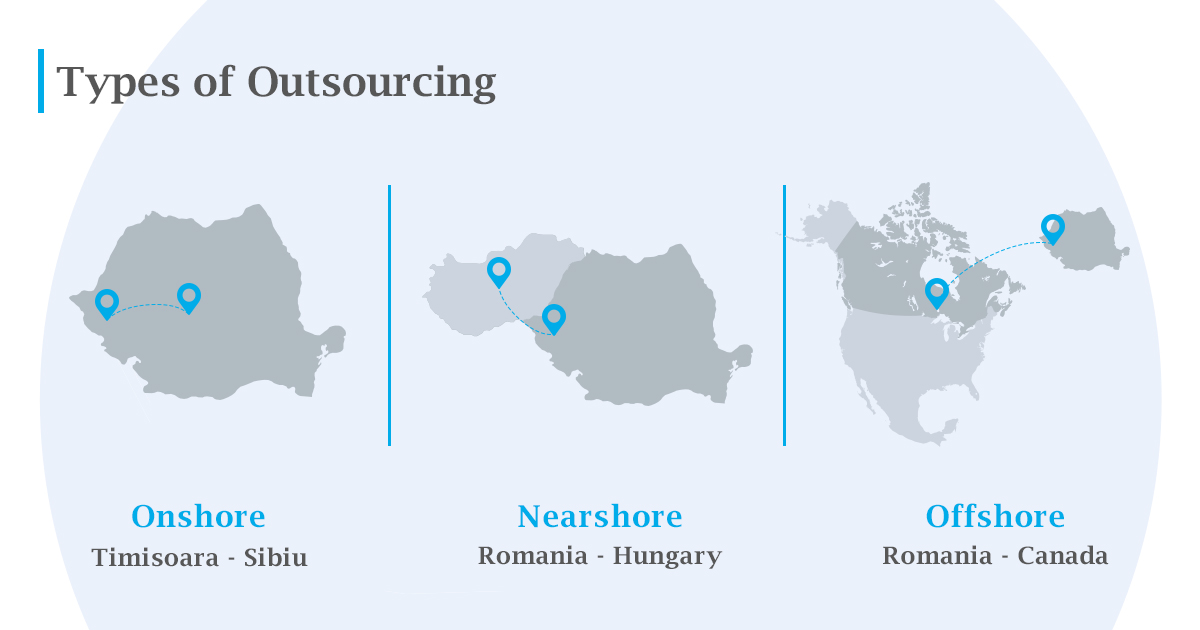 Onshore Outsourcing
Onshore outsourcing involves working with teams from your own country; this makes it easier for companies to control their projects since there are fewer cultural divide issues or language differences and the teams can share the same time zone. Unfortunately, onshore options tend to be more pricey than near- or offshore alternatives.
Nearshore Outsourcing
Nearshore software outsourcing is similar to offshore outsourcing—except that the team is located in a country that's closer to yours, often in the same or an adjacent time zone. This model helps reduce communication issues due to language barriers or cultural differences, but it may also be more expensive than offshore options.
Offshore Outsourcing
Offshore outsourcing involves working with a team that's located in a different country. This type of outsourcing lets businesses access talents at a rate that is generally lower than local talent. Many companies prefer it, as the cost is one of the primary motivators for businesses to outsource software development. But there are some downsides, like time zone differences and communication challenges due to language barriers.
Advantages of Outsourcing Software Development
Outsourcing software development can be an excellent way to bring in new ideas and expertise for any organization. For starters, it allows you to access the skills of a global talent pool that is much larger than any internal team could be. Also, it saves your company from the need of renting office space, set up a whole development infrastructure, or assemble a qualified team. With the right outsourcing partner, you can find software developers experienced in a wide range of cutting-edge technologies and methods that would otherwise take a long time to build.
What are the additional reasonings for organizations to outsource software development? Here are a few:
Cost Savings
Access to Talent and Expertise
Time Efficiency
Ability to Focus on Core Business Activities
Enhancing Productivity and Efficiency
Software Outsourcing Trends In 2023
As software becomes more and more integral to business operations, the latest trends are focused on enabling businesses to adapt faster, manage resources more efficiently, and maximize their productivity.
Let's take a look at some of the most important outsourcing trends that you should be aware of in 2023:
Cybersecurity
During the Covid-19 pandemic, the number of cybercrime cases increased by more than 600%, according to Purplesec. As cyber threats continue to grow, the issue of cybersecurity and personal data protection has become the primary concern for organizations around the world. Also, security capabilities are driving the deployment of emerging technologies in today's market.
As a result, companies are increasingly turning to external software development companies for advanced cybersecurity solutions.
Artificial Intelligence (AI)
The AI Industry has grown significantly over the past few years and will be reaching new heights in the near future. Just take a look at 2022, when powerful artificial intelligence tools like ChatGPT have taken the world by storm with their creative potential. The emergence of such tools has shown immense potential in how machines can be automated to perform various jobs more swiftly and effectively than ever before.
It's no wonder why companies are investing heavily in A.I. technology to handle and mine massive amounts of data in order to improve customer experiences, optimize operations, and lowering costs. Also, A.I. technology can offer businesses more control over their data and processes, allowing them to integrate all aspects of their operations seamlessly.
Developing A.I. tools and strategies might require a significant amount of time and money. That is the main reason why many companies are outsourcing this function to third-party software companies specializing in this area.
Cloud Computing
Businesses are increasingly taking advantage of cloud computing services for their software needs. The global pandemic and stay-at-home mandates have driven businesses to accelerate their digital transformation by shifting to cloud-based applications for remote workers and new cloud services to retain customers. These services allow businesses to scale quickly as needed and benefit from reduced costs and improved security.
Nowadays, businesses consider cloud computing the standard and use it to carry out daily work tasks. And the data supports this claim. According to a Gartner report, by 2025, companies will increase their use of cloud-native platforms by 95%. This means that the majority of businesses will be relying on the cloud to perform a variety of basic business tasks and processes.
By embracing cloud computing outsourcing, companies will save time, and financial resources, and receive top-notch expertise and support
eCommerce and Automation
Automation is also a key trend in 2023, with businesses utilizing technologies to help streamline processes and reduce operating costs, and also to provide insights into customer behavior that can help drive better decision-making.
Although automation technologies have long been utilized in eCommerce, they are now used more often to improve efficiency and decrease expenses. Tasks like order processing, product delivery, or customer service are just a few of the areas where automated technologies have become almost indispensable.
If you are a retail business owner, you need to take advantage of this technology to stay ahead of your competition. An experienced software outsourcing provider can help your business develop and integrate your software into one system so you can improve efficiency, reduce errors, and save time. If you are a retail business owner, you need to take advantage of this technology to stay ahead of your competition. An experienced software outsourcing provider can help your business develop and integrate your software into one system so you can improve efficiency, reduce errors, and save time.
Focus on Long-term Cooperation
The software outsourcing market is huge, with thousands of companies providing their services worldwide. It's no wonder why some businesses are tempted to jump from one provider to another, choosing to delegate parts of the project to different vendors. However, this type of practice does not guarantee the high quality of the final product.
Software development outsourcing is more than just writing code. There are a lot of technical tasks that need to be tackled. Therefore, choosing a software provider that can provide support at all stages of the project is vital.
If you are a business owner that has already found an outsourcing service provider whose proficiency, method of operation, communication, and business ethics fully meet your expectations, try to build a strong, trusting, long-term relationship with them. The main benefit of this type of cooperation is that both parties know all the ins and outs of working with each other and can maintain an agreed workflow. Also, this way the software provider becomes part of your team.
Romania as a Hub for Software Development Outsourcing in 2023
One of the fastest-growing countries in software development outsourcing is Romania. After the country joined the EU in 2007, its IT sector started to grow at high-speed. Home to an impressive number of international high-tech companies (like Amazon, IBM, Microsoft, Oracle, HP, and others) Romania has become a major player in the Eastern European tech scene. According to an International Trade report, Romania is the leader in Europe, and sixth in the world, in terms of the number of certified IT specialists, with density rates per 1,000 inhabitants, greater than in the US or Russia.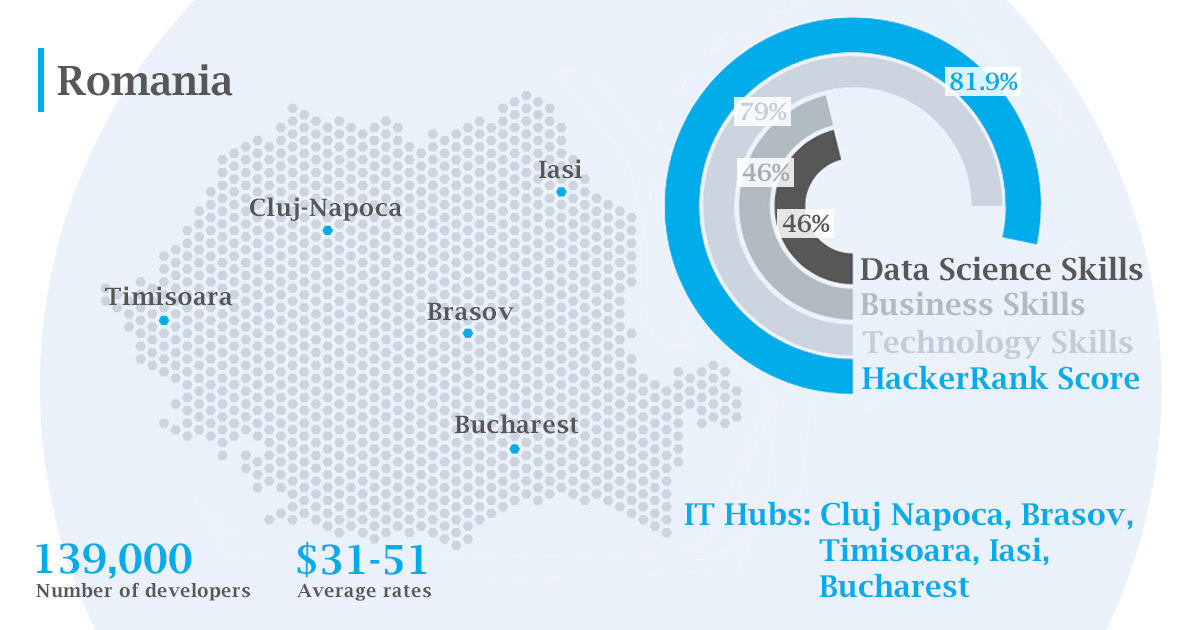 Why is Romania such a great fit for companies wanting to outsource software development? Here are just some of the reasons:
1. Highly educated workforce – The IT industry in Romania accounts for almost 6.7% of the country's GDP and has a pool of highly skilled engineers who have experience with both legacy and cutting-edge technologies.
2. Low labor costs – Since wages in Romania tend to be lower compared to those in countries like Western Europe or the US, it makes it easier for companies to save money by outsourcing their software development projects here.
3. Attractive tax environment – Companies based in Romania can benefit from corporate income tax rates as low as 0%, making them an attractive place for businesses that want to reduce their operating costs while still getting access to top talent.
4. High-quality mobile networks – The country ranks 6th place in the top of the fastest-growing countries for fixed broadband and 43rd place among the fastest countries for mobile internet. With the introduction of 5G services in Romania, the same scores 2nd place in terms of downloading speed and 1st place in terms of upload speed, proving once again the high quality of the Romanian mobile networks. (International Trade Report).
5. Strategic location – With its nearshore location right at the crossroads between East and West, Romania is both geographically accessible and culturally close, which makes it easier for companies to manage their outsourced project without having to hire additional staff or travel long distances.
Of course, there are many other factors that make Romania a prime destination for software development outsourcing, including its membership in the EU and competitive energy costs—making it an ideal choice for businesses looking towards 2023 and beyond!
Conclusion
Software is like an engine driving the modern world—it's everywhere. And like any complex engine, the software requires skilled maintenance and regular upkeep in order to remain optimized and up-to-date.
Outsourcing software development is a great way to add both quality and efficiency to your project, as long as you do your due diligence when selecting a partner. With the right team in place, you can access a pool of specialized talent, reduce costs, optimize processes, and create greater scalability—all without sacrificing quality.